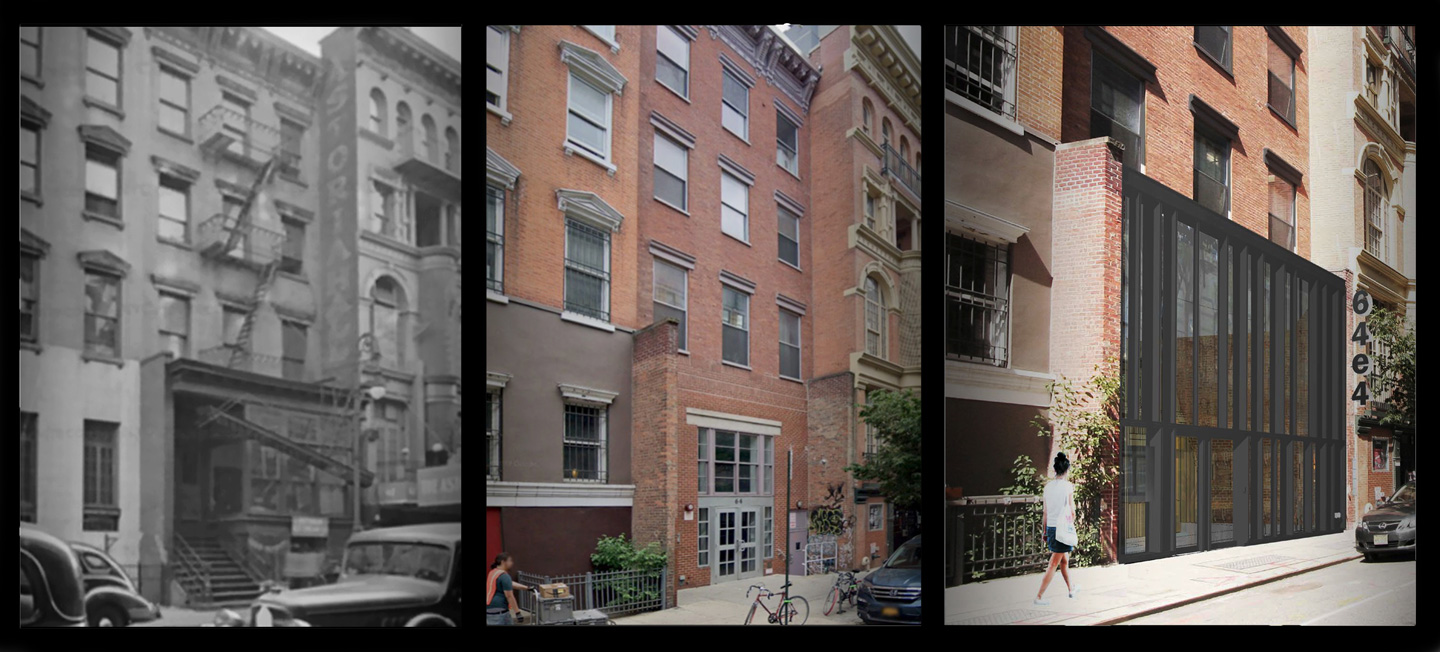 64 East 4th Street – A Century as a Social Justice Sanctuary
Since 1894, 64th East Fourth Street has been a sanctuary for the cause of the common man and woman.  Originally part of a terrace-style row development of federal-style townhouses, 64 saw use as a center for labor organizing and union activity beginning in the late 19th century.
In 1894 it was the headquarters of the Socialists and Central Labor Federation. On May 20, 1895 the women's branch of the Socialist-Labor Party was formed here. In 1899 the building served as the headquarters of the Diamond Workers' Union. On June 3, 1900 the founding meeting of the International Ladies' Garment Workers' Union was held in the building, which was then called the "Labor Lyceum." In June 1901 it was the Sausage Makers' Union headquarters. On July 23, 1903 Mary Harris, aka Mother Jones, organized hundreds of textile workers here, who marched to Madison Square. Many other unions met in the building during 1902-03.
A variety of social uses and descriptive names have been attached to no. 64 and the adjacent buildings. The names "Metropolitan Palace Hall" in 1909, "Manhattan Lyceum" in 1910, "Manhattan Casino" in 1911, "Astoria Hall" in 1916, and "Hobo College" for the second floor in 1931 have been used.
Cultural Renaissance
As is typical in New York, even as the neighborhood was deteriorating and reaching its low point in the late 1950's, signs of renewal were apparent.  A new way of looking at the concentration of social and artistic enterprises on this block of East 4th Street is as a "Naturally Occurring Cultural District." 
Teatro Círculo purchased 64 East 4th Street, along with two other theatre companies for $1 from New York City.  A $5 million-dollar renovation was completed in 2013 thanks to generous funding by the Bloomberg Administration, DCLA's Capital Funding Program, and funding by City Councilmember Margarita López, and Rosie Méndez, as well as Manhattan Borough President C. Virginia Fields and her successors Scott Stringer and Gale Brewer.  
Today, 64 East 4th Street and Teatro Círculo continues with the building's legacy on social justice. We utilize this great space to increase arts access with the expectation that the creative arts can provide a vision and advocacy platform for antiracism, equitable funding and structural support for culturally-specific artists and performance groups in New York.  
As a community-based theatre of and by underserved artists and audiences, Teatro Círculo bridges Spain's cultural legacy to contemporary artists of color and provides a stage to a new generation of Latinx theater artists. 
We revive plays from Spain's Golden Age and develop new works by Latinx artists to illustrate the social justice relevance of these plays in light of the true experiences of urban, immigrant communities through the preservation and development of the dramatic art form. 
The pairing of classical and contemporary plays brings the dignity of our shared humanity full circle, hence the company's name, Teatro Círculo.
We are proud to call 64 East 4th Street our home, and honored to continue its cultural and social legacy for equity and justice, for all New Yorkers.