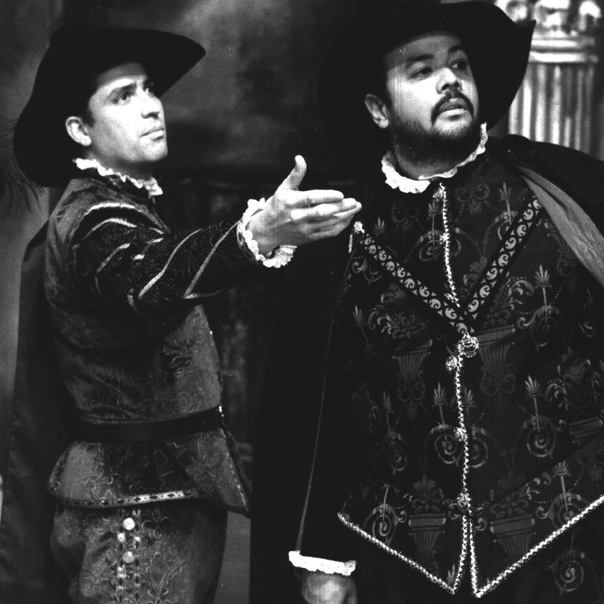 Teatro Círculo was launched in 1994 by Founding Artistic Director José Cheo Oliveras to revive Spanish Golden Age Theatre.  A common misunderstanding of these plays is that they were for the elite, which could not be further from the truth.  Although some plays were presented exclusively for the court, more that eighty percent of them were performed in the streets at the "corrales" to the common citizens of Renaissance Spain.
We see the themes of Spain's Golden Age plays to be not only universal, but relevant to the social justice issues of our time, with such contemporary concerns as social mobility, women's rights, equity, and justice. At the same time, Teatro Círculo also produced plays by contemporary Spanish and Latin American playwrights.  By pairing both Golden Age classics and contemporary Latin American works in Spanish, the company brings our theatrical history, heritage, and cultures full circle: hence, a Teatro Círculo.  
Word of a young energetic theatre troupe giving life to the Golden Age Classics quickly spread and in 1994, Teatro Círculo was invited by Silvia Brito, Founding Artistic Director of Thalia Spanish Theatre in Sunnyside, Queens to perform Entremeses de Cervantes.  Performances of these dramatic and comical vignettes of Spanish everyday life were so popular, the initial run sold out, and was extended. The popularity of these classics clearly spoke to a modern Latinx audience, so much so that their palpable relevancy prompted Miriam Colón Valle, Founding Artistic Director of Puerto Rican Travelling Theatre, to engage Teatro Círculo to perform annually as part of their Summer Touring Program throughout NYC. 
Teatro Círculo continued producing on its own as well, presenting Los titingós de Juan Bobo by Carlos Ferrari, the most popular stories and mischiefs of the fabled Caribbean folk character, presenting a nostalgic yet relevant perspective of Puerto Rico's social value system of the 19th Century jíbaro. It's popularity, along with our Entremeses de Cervantes presentations, have had the longest theatrical runs with over 100 performances each.The success of Teatro Círculo's distinctive and popular productions brought leading television stars from Puerto Rico to work with the company in New York. 
One the most important Spanish plays of the 20th Century, La casa de Bernarda Alba by Federico García Lorca, about the imminent dictatorial system in Spain in the 1930's, featured Lydia Echevarría, the Grand Dame of Puerto Rican Theater and TV. 
Johanna Rosaly, television super star in over 15 soap operas throughout Latin America, performed in Teatro Círculo's production of Sabina y Lucrecia by Alberto Adellach, the story of two mental asylum escapees whose paths cross.
The visibility and support Teatro Círculo received at the beginning of its program trajectory from more established Latino Theatre producers in New York cannot be understated.  During its first 9 years of existence Teatro Círculo was consistently presented by Thalia Theatre, PRTT, Repertorio Español, Pregones Theatre, SEA Theatre, La Tea Theater and The Public Theater.  During this initial "homeless period" Teatro Círculo also traveled to more than 15 cities in the U.S. and participated in over 10 international theater festivals in the US, Spain, France, Dominican Republic, and Puerto Rico.
Planning for Teatro Círculo's future and expanding access to the theatrical arts, Cheo started a university-quality series of master classes in 1998.  As a professional training program for young and mid-career actors, taught by some of the finest acting instructors working in Spain and Latin America, these classes were made accessible with subsidized tuition fees, where students receive 20 hours of training in Classic Spanish Versification; Playwriting, Singing & Dance, as well as a variety of other classical and contemporary acting styles and techniques for the modern stage.  The Master Class Series not only trains artists for future work at Teatro Círculo, it also helps ensure a generation of Latino trained actors in NYC, who wish to perform in Spanish.                               
Still, Teatro Círculo would better secure its future with the acquisition of permanent space to call "home".  So, in 2005, when the opportunity presented itself, the Company, along with Teatro IATI and Choices Theatre, purchased a five-story building on New York's famous Fourth Arts Block at 64 East 4th Street for $1 from NYC. 
Extensive renovations were completed in 2013 thanks to generous funding from the Bloomberg Administration, through DCLA's Capital Funding Program, and with generous funding by City Councilmember Margarita López, Rosie Méndez and María del Carmen Arroyo as well as Manhattan Borough President C. Virginia Fields and her successors Scott Stringer and Gale Brewer. 
Today, Teatro Círculo is a dynamic, community-based theatre company serving Latinx neighborhoods throughout New York City and the surrounding tri-state area, as well as avid lovers of Spanish and Contemporary Latinx theater.  Recognized for their artistic excellence with over 95 ACE, HOLA and ATI Awards, our productions uncover the rich mosaic of Iberian and Latino cultures that demonstrate the pluralism and artistic vitality of our people both here and abroad.